There are several different techniques available for the surgical treatment of patellar fractures. In recent times, anterior angular-stable plate fixation has become increasingly important – especially in the case of multi-fragmented patellar fractures. Biomechanical studies, such as the study in Injury 2020 by Wagner F. et al.*, show the superiority of this technique over other osteosynthesis procedures. 
On conventional radiographs, patellar fractures are often underestimated. After preoperative CT diagnosis, fractures with radiologically "simple" fractures often also include a distal pole involvement. In some cases, the lower pole is multi-fragmented. Within the postoperative mobilization phase, a secondary dislocation can potentially be caused by the pulling-force of the patellar tendon on the distal fragments.
* Biomechanical comparison of a 3.5 mm anterior locking plate to cannulated screws with anterior tension band wiring in comminuted patellar fractures, Wagner F. et al., Injury, 2020

 
The special surface coating of the plates and screws (Type II anodization) favours a simplified removal of the implants after fracture healing.

Dedicated Kirschner wire holes in the plate allow for temporary Kirschner wire fixation to facilitate the positioning of the plate on the bone.
Suture holes alongside the edge of the plate allow additional fixation with sutures. Suture feeding is enabled through the undercuts with the plate in situ.
Rounded edges, the slim plate profile, the smooth coated surface as well as screws that sit flush on the plate reduce the risk of irritation of the surrounding soft tissue.
11 screw holes allow for intraoperative flexibility and an individual consideration of the respective fracture pattern.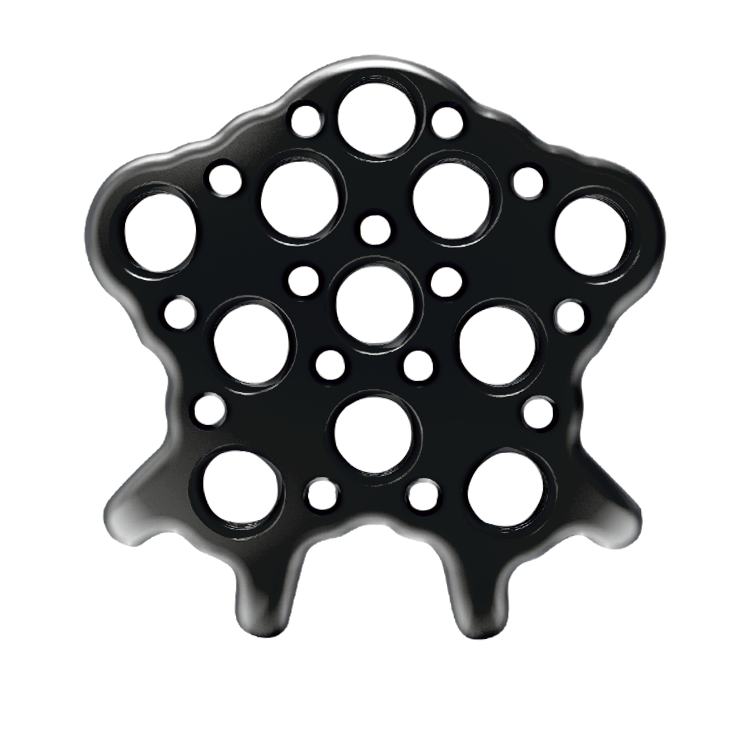 For the fixation of fragments in the area of the patellar pole, the patella basket-plate combines an anatomically shaped angular-stable plate with four distal hooks.
The basket-like design of the plate allows to hold the complete lower pole and thus and counteracts secondary dislocation.

The lateral hooks of the plate are adjusted in order to not affect the retropatellar cartilage.
The long version of the patella basket-plate offers additional intra-operative flexibility when treating double transverse fractures with multi fragment pole involvement.
3.5mm 'low profile' locking head screws ensure an angular stable fracture treatment while maintaining a low osteosynthesis profile.

The T15 screw drive ensures optimal force transmission, reduces the risk of deformation of the screw drive and allows for self-retention of the screw on the screwdriver.